Rates
| TYPE OF BIKE | 1h | 2h | 3h | 4h | Before 5PM | 24h | Extra day | 1 week | 2 weeks |
| --- | --- | --- | --- | --- | --- | --- | --- | --- | --- |
| Urban | 15$ | 25$ | 32$ | 38$ | 45$ | 55$ | 30$ | 175$ | 300$ |
| Road | 25$ | 35$ | 45$ | 55$ | 65$ | 75$ | 35$ | 225$ | 425$ |
| Road (carbon) | 25$ | 35$ | 45$ | 55$ | 65$ | 75$ | 40$ | 275$ | 475$ |
| Tandem | 30$ | 50$ | 64$ | 76$ | 90$ | 110$ | 60$ | 350$ | 600$ |
| Electric | 25$ | 45$ | 60$ | 75$ | 90$ | 100$ | 50$ | 350$ | 600$ |
| Kid's bike | 10$ | 18$ | 25$ | 30$ | 35$ | 40$ | 25$ | 125$ | 200$ |
| Trailer for 1 or 2 / BOB | 10$ | 18$ | 25$ | 30$ | 35$ | 40$ | 25$ | 125$ | 200$ |
| Baby's seat | | | | | 10$ | 10$ | 10$ | 35$ | 50$ |
Family rates
| Children of 14yrs MAX | 1h | 2h | 3h | 4h | Before 5PM | 24h | Extra day |
| --- | --- | --- | --- | --- | --- | --- | --- |
| Fam 4 (2 ad 2 children) | 42$ | 72$ | 95$ | 115$ | 135$ | 160$ | 90$ |
| Fam 5 (2 ad 3 children) | 50$ | 85$ | 115$ | 135$ | 160$ | 190$ | 110$ |
| Fam 6 (2 ad 4 children) | 58$ | 100$ | 135$ | 160$ | 190$ | 220$ | 130$ |
| Fam 7 (2 ad 5 children) | 66$ | 115$ | 155$ | 185$ | 220$ | 255$ | 150$ |
Bicycles and accessories for children
CHILDREN'S BIKES

We have 16, 20 and 24 inch bikes. Our rental rates are also determined according to the number of children accompanying you.

CYCLATELLE / GIRAFFES

The Cyclatelle is perfect for taking a ride with a child who doesn't yet know how to get by on their own on a bike, but wants to do their fair share.

SEATS

Our child seats are designed for the little ones who cannot pedal. The child must be able to hold his head on his own (about 6 months and +). Maximum capacity of 22 kg (48.5 lbs).

TRAILERS

We have trailers (single or double) and seats that can allow you to cycle with young children on the bike paths in Quebec.
WHAT IS INCLUDED IN THE RENTAL OF A BIKE?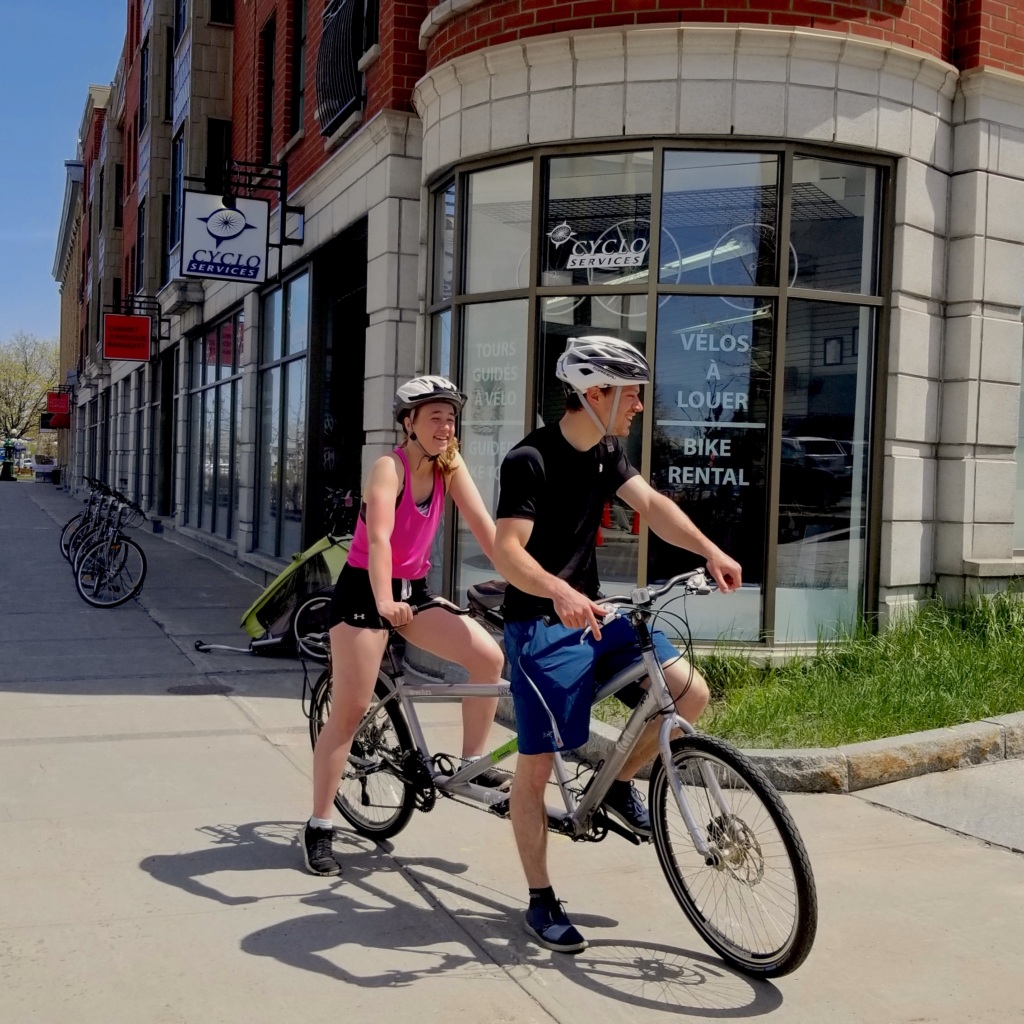 DISCOVER OUR OTHER SERVICES